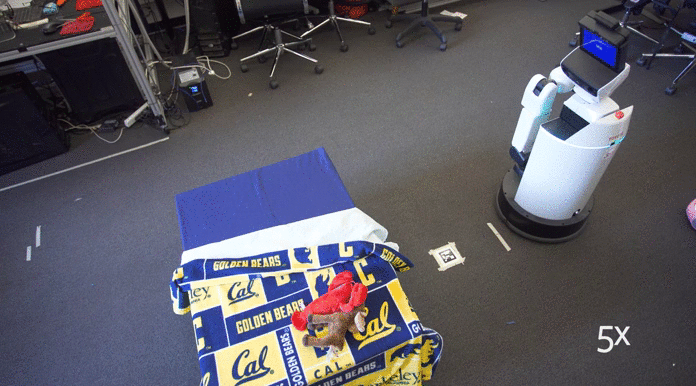 Toyota HSR Trained with DART to Make a Bed.
In Imitation Learning (IL), also known as Learning from Demonstration (LfD), a robot learns a control policy from analyzing demonstrations of the policy performed by an algorithmic or human supervisor. For example, to teach a robot make a bed, a human would tele-operate a robot to perform the task to provide examples. The robot then learns a control policy, mapping from images/states to actions which we hope will generalize to states that were not encountered during training.
There are two variants of IL: Off-Policy, or Behavior Cloning, where the demonstrations are given independent of the robot's policy. However, when the robot encounters novel risky states it may not have learned corrective actions. This occurs because of "covariate shift" a known challenge, where the states encountered during training differ from the states encountered during testing, reducing robustness. Common approaches to reduce covariate shift are On-Policy methods, such as DAgger, where the evolving robot's policy is executed and the supervisor provides corrective feedback. However, On-Policy methods can be difficult for human supervisors, potentially dangerous, and computationally expensive.
This post presents a robust Off-Policy algorithm called DART and summarizes how injecting noise into the supervisor's actions can improve robustness. The injected noise allows the supervisor to provide corrective examples for the type of errors the trained robot is likely to make. However, because the optimized noise is small, it alleviates the difficulties of On-Policy methods. Details on DART are in a paper that will be presented at the 1st Conference on Robot Learning in November.
We evaluate DART in simulation with an algorithmic supervisor on MuJoCo tasks (Walker, Humanoid, Hopper, Half-Cheetah) and physical experiments with human supervisors training a Toyota HSR robot to perform grasping in clutter, where a robot must search through clutter for a goal object. Finally, we show how DART can be applied in a complex system that leverages both classical robotics and learning techniques to teach the first robot to make a bed. For researchers who want to study and use robust Off-Policy approaches, we additionally announce the release of our codebase on GitHub.
Continue