Consider looking at a photograph of a chair. We humans have the remarkable capacity of inferring properties about the 3D shape of the chair from this single photograph even if we might not have seen such a chair ever before. A more representative example of our experience though is being in the same physical space as the chair and accumulating information from various viewpoints around it to build up our hypothesis of the chair's 3D shape. How do we solve this complex 2D to 3D inference task? What kind of cues do we use?
How do we seamlessly integrate information from just a few views to build up a holistic 3D model of the scene?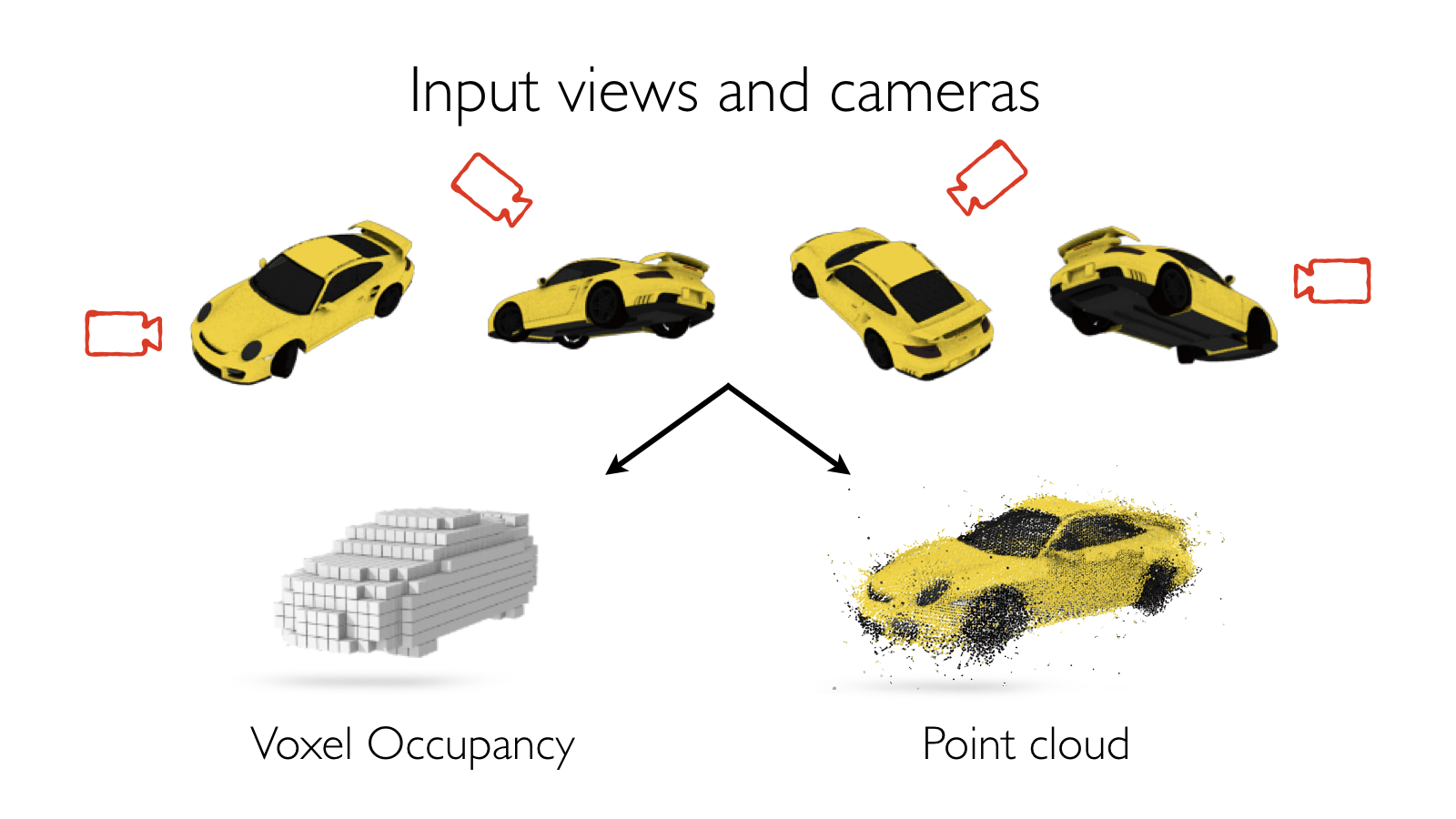 A vast body of work in computer vision has been devoted to developing algorithms which leverage various cues from images that enable this task of 3D reconstruction. They range from monocular cues such as shading, linear perspective, size constancy etc. to binocular and even multi-view stereopsis. The dominant paradigm for integrating multiple views has been to leverage stereopsis, i.e. if a point in the 3D world is viewed from multiple viewpoints, its location in 3D can be determined by triangulating its projections in the respective views. This family of algorithms has led to work on Structure from Motion (SfM) and Multi-view Stereo (MVS) and have been used to produce city-scale 3D models and enable rich visual experiences such as 3D flyover maps. With the advent of deep neural networks and their immense power in modelling visual data, the focus has recently shifted to modelling monocular cues implicitly with a CNN and predicting 3D from a single image as depth/surface orientation maps or 3D voxel grids.
In our recent work, we tried to unify these paradigms of single and multi-view 3D reconstruction. We proposed a novel system called a Learnt Stereo Machine (LSM) that can leverage monocular/semantic cues for single-view 3D reconstruction while also being able to integrate information from multiple viewpoints using stereopsis - all within a single end-to-end learnt deep neural network.
Continue